Whistleblowers are often depicted as controversial figures (as evidenced by the media's portrayal of Edward Snowden) and some even go as far as to call them traitors. In the workplace however, these groups of individuals should be hailed as heroes, as they are key in preventing internal fraud from occurring and are a huge asset to their company.
In fact, 49% of serious misconduct is reported by a colleague.
Therefore, companies should endeavour to create a safe and effective whistleblower hotline for people to call out this serious misconduct. This blog will outline (number) tips for setting up a whistleblower hotline that employees will feel comfortable using, and that management can easily create investigation reports with. 
1) Consider Whether An Internal or External Whistleblower Hotline is Appropriate
The first decision any company needs to make regarding their whistleblower hotline is whether it should be run internally or externally. Should it be operated within the company or subcontracted to an external source? Both options have its benefits and downsides, which management must consider before they can start investigating internal fraud reports.
An internal whistleblower hotline is often run by the company's HR or internal audit department. The advantages of this strategy are that it eliminates the need for a middle man, so the company can speak directly with the whistleblower and get all the details directly from the source. It also prevents information leaks that could damage the company's reputation, since all reports are kept within the company. However, conducting the hotline in-house will involve many considerations, such as budget, resources, implementation, training and policies among others. 
On the other hand, an external hotline is developed, implemented and operated by a third party, and avoids many of these considerations. They often offer a 24/7 multilingual service, with quick response times and employees may feel safer knowing they are talking to an independent third party. The downside is that there is some risk some of this information may be leaked to the public since it is not under the direct control of the company.
2) Have Different Communication Channels
If your company does decide to set up an internal whistleblower hotline, you must then consider how your whistleblowers will communicate to management. Although the term "hotline" implies that employees can only report internal fraud via the phone, whistleblower hotlines can contain a variety of communication channels that will help management become aware of potential concerns.
In today's world, there are so many different ways to connect with others, without even speaking to them. Social media has completely changed the way we interact with one another. For the more tech-savvy younger generations, it is rare for them to pick up the phone and talk to someone, unless it is a close friend or family member. In the context of whistleblowing, it is important that companies create a reporting channel that employees are comfortable with using.
Younger employees may feel anxious about making a phone call to report internal fraud. There are many factors that can induce fear and prevent employees from picking up the phone, which can include:
Fear of revealing their identity
The serious nature of the phone call
A hesitation to pick up the phone
They are speaking to someone they don't know
Furthermore, the quality of the investigation report will be highly dependent on the training and skill of the person on the other side of the line. Hence, it is vital that companies implement different communication channels besides a phone-based hotline.
Companies should include an online platform with a web-based form as part of their whistleblower hotline, which employees can fill in and report any internal fraud that they see. Not only will this allow for easy categorisation of complaints, it will also give the employee the piece of mind that they can express themselves without being put on the spot.
As alluded to above, there is also no third party who may get the details of the report incorrect, so the company can work directly with the whistleblower. Additionally, an online platform can include an anonymous chat function that the case manager can use to build trust with the employee and ask further questions if necessary.
For employees who do not wish to remain anonymous, another whistleblower communication channel that companies should include is in-person reporting. Often the chance to speak directly to another person about the matter will help the whistleblower come forward with their information. The main benefit for the company is that they can easily follow up with the employee throughout their investigation for more information or to update them on the status of their investigation.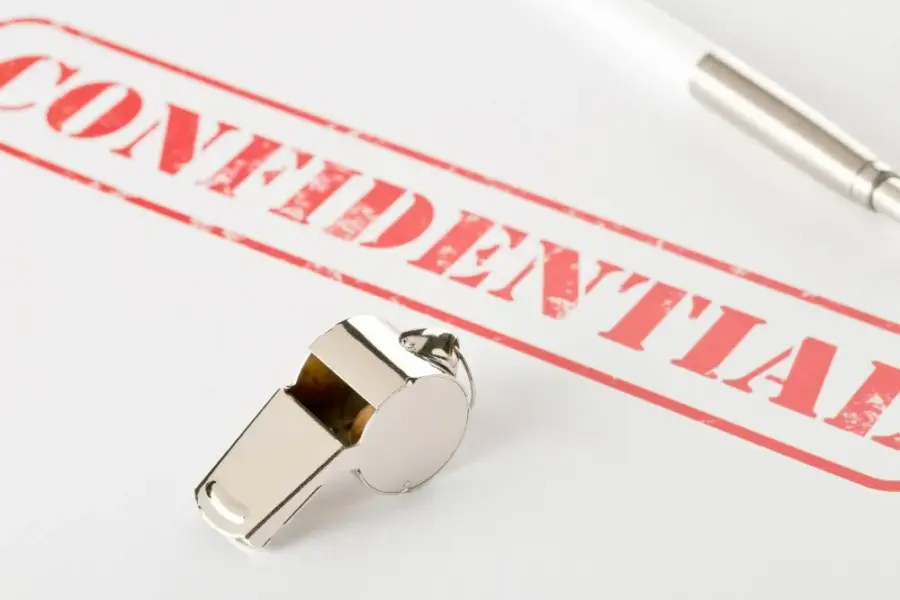 3) Implement a Case Management System
One critical component of any whistleblower hotline is a case management system to complement it. Once a report has been made, a company must swiftly investigate the issue, determine the appropriate course of action, then implement it within the company. This is where Polonious can help.
Polonious' ISO27001 certified security ensures your evidence and case files are stored securely. Our detailed security configuration will also ensure that you can keep whistleblowers fully anonymous, or known only to an external or internal whistleblower team, depending on the level of anonymity requested. We can then help generate an investigation report for you at the click of a button.
Polonious' configurable workflows ensure a fair, consistent, and compliant process for all internal investigations.
4) Know What Metrics You Are Using
Your company should now have an efficient system of collecting whistleblower reports and investigating them in a timely manner. The next step is the measurement of certain metrics, which allows companies to gain insights into their hotline and make informed decisions to optimise the process over time. Some of the most essential metrics are discussed below.
Cases Over Time
A fundamental metric that any whistleblower hotline should include is cases over time. Although it is a common belief that the less cases of whistleblowing the better, managers should actually be concerned if they receive no reports. It is unrealistic to believe that absolutely no internal fraud is occurring within a company, and whistleblowers are central to uncovering this internal fraud.
More cases being reported may indicate that the program is working and employees feel comfortable using the communication channel. If there is a downward trend in cases, this may point to employees not embracing a culture of compliance.
Displaying cases reported over time in a graph will also allow the case manager to easily discern if there is seasonality in cases, or if certain events trigger employees to report cases.
Cases by Department
Another key measurement is examining where cases in the whistleblower hotline are being reported from. If a specific department is reporting more cases than others, this may be a signal that there is poor training or a culture of corruption within the department. Management can therefore be agile and make adjustments to the department.
Cases by Channel
By measuring where cases are sourced, a company will have a better understanding of which channels employees prefer when reporting internal fraud. This metric can be combined with the above two metrics to discover if employees prefer a channel at a certain time, or if one department prefers a certain channel over another. It will reveal insights into which channels are easiest for employees to engage with.
Anonymous Ratio
A useful metric to keep in mind is the number of anonymous reports to the whistleblower hotline compared to non-anonymous reports. If the majority of reports come from anonymous sources, this may suggest that employees are afraid of speaking out and facing retaliation. Although not a direct correlation, this ratio can point to the culture of compliance within the organisation.
5) Ensure Clear Messaging from Management
Once the whistleblower hotline has been successfully implemented within the company, management must then let their employees know about it. The messaging from management should clearly emphasize the importance of speaking up and promote a culture of compliance.
This will motivate employees to use the hotline whenever they see something out of line. The more they use the hotline, the more cases of internal fraud that management can investigate, and the better it is for the company.
Conclusion
Employees are on the ground floor of an organisation, seeing and hearing things that management can easily miss. It is therefore crucial for management to establish an effective means of listening to their concerns if they spot instances of internal fraud. Key points of consideration include whether a company's whistleblower hotline should be internal or external, what communication channels it will use, the implementation of a case management system, what metrics it should measure, and what messaging should come from management. With these in mind, companies should be able to create a successful whistleblower hotline.
Interested in learning more about how Polonious can help?
Get a free consultation or demo with one of our experts
Get a Demo