Polonious offers a number of hosting options, primarily focused on AWS but including self-hosting by clients as well as hosting on Polonious' own co-located servers. However, over the last few years most new clients have signed up for our AWS hosting option, and Polonious has successfully migrated many companies into the AWS cloud.
This is often requested in order to meet ever-increasing security and compliance requirements. Technical requirements such as stronger network security, encryption in transit and at rest, and secure log retention as well as operational requirements such Business Continuity and Disaster Recovery, where AWS offers multiple levels of redundancy versus co-located servers, and especially versus self/on-premises hosting. Polonious' Knox Grade infrastructure is easy to implement on AWS and, together with AWS' own security setup, provides ISO27001 certified levels of confidentiality, integrity and availability.
For these reasons, many organisations are moving computing services to the cloud, not just case management. With deep AWS product knowledge and close working relationships with clients, Polonious can help you implement a secure, robust cost-effective cloud solution.
This blog will help you understand the benefits AWS brings to our clients, to help you determine which solution works best for your organization.
This blog will address:
What is AWS (Amazon Web Services)
Benefits of AWS
How we can help
What is AWS
AWS stands for Amazon Web Services, the world's "most comprehensive and broadly adopted cloud platform". AWS helps millions to:
Lower their business costs, by only paying for cloud services and storage they need
Become more agile, offering systems you can access from anywhere in the world
Innovate faster, removing time spent worrying about in-house servers and software
Amazon Web Services (AWS) provides a reliable, scalable and low-cost infrastructure platform powering businesses in 190 countries around the world. It can help streamline fragmented processes, speed up project delivery, and reduce company costs.
AWS encompasses many services, including everything from databases to machine learning. Popular services include AWS RDS (reliable database services), AWS S3 (simple, secure storage) and AWS EC2 (scalable compute capacity). Polonious uses all those services for our AWS hosting option.
According to Yahoo Finance, Amazon Web Services are trusted by some of the world's largest companies, including Unilever, Intel and Dropbox. However, Amazon's cloud service is a good choice for virtually every type of company, no matter how big or small. From a start up to a Fortune 500 company, every business has the option to customize a spot for themselves on the cloud.
Benefits of AWS
Data Protection and Encryption
All data on the AWS network is automatically encrypted including data in transit and at rest. With AWS, you can control where your data is stored, who can access it, and what resources your organization is consuming at any given moment. Fine-grain identity and access controls combined with continuous monitoring for near real-time security information ensures that the right resources have the right access at all times.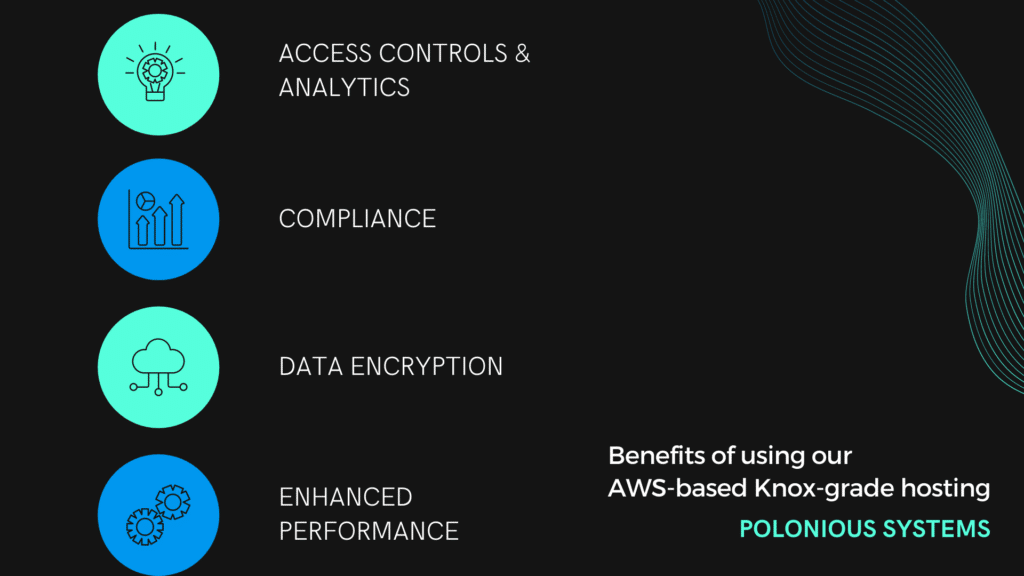 Point-in-time recovery and continuous backup
Polonious on AWS offers detailed backup and recovery options, with daily snapshots of the database and backups of the transaction logs for 35 days (created in 5 minute intervals). This transaction log can be used to roll back data to any day and time within the last 35 days and allows a RPO of only 5 minutes. Additionally nightly snapshots of the database are created and stored for 10 days.
Governance, Risk and Compliance
Given the gravity, complexity, and growing number of risks that organizations face, the regulatory/compliance landscape is rapidly evolving. AWS supports more security standards and compliance certifications than any other offering, including PCI-DSS, HIPAA/HITECH, FedRAMP, GDPR, FIPS 140-2, and NIST 800-171, helping satisfy compliance requirements for virtually every regulatory agency around the globe. Enhanced data security ensures compliance with relevant regulatory requirements. Take a look at the AWS compliance programs.
Performance
One of the key benefits of AWS migration is enhanced performance. Using the AWS cloud platform you could easily deploy, manage, and monitor your applications. Thus bringing better alignment between application utilization and business performance.
Enhanced Security
Data theft and cybersecurity are an increasing risk to many companies; learn more about the nature of these crimes in: Workplace Fraud: 3 Common Data Theft Schemes. AWS offers way more security as compared to a company's own hosted website or storage. AWS has redundant data centers in all major jurisdictions around the globe. This allows for sophisticated failover solutions that are hard to implement on-premise or via co-located server centers.
How Polonious can Help
Polonious has led multiple migration projects which allows our clients to enjoy the benefits of enhanced security, compliance and performance. Using our technical and legal expertise, we help organizations through all the phases of migration projects from discovery to execution. Polonious offers a multi-stage approach to transformation: diagnosing the state of your current hosting solution, creating the best AWS migration strategy for you, then transitioning your instance. We take the time to ensure that your cloud migration goes smoothly and is in-line with your company goals.
Polonious' Knox Grade infrastructure is ISO27001 compliant, meaning it meets internationally recognised security standards. This infrastructure comes with intrusion and threat detection, secure web application firewalls, and detailed backup and point-in-time recovery. Additionally, it is regularly penetration tested and drilled against various disaster recovery scenarios. The Polonious Case Management Software offers an opportunity to take advantage of better methodologies, technology and workflows to integrate compliance and customer service into everyday processes.
Our team is experienced in large-scale AWS migrations, having led many successful migration projects.
Interested in learning more about how Polonious can help?
Get a free consultation or demo with one of our experts
Get a Demo
After being a client of Polonious while working in the Student Discipline team at Curtin University in Perth, Nicholas joined Polonious as a systems configurer in 2017. He has since successfully completed many rollouts and also contributes to improving Polonious' internal ISO processes. Nicholas holds a Bachelor of Philosophy from the University of Western Australia.