Every business was once a small business. To grow, businesses learnt to eliminate inefficiencies or work around them. However, successful entities have found ways to become efficient in most parts of their operations. Efficient compliance is crucial as it provides many benefits to small businesses and prevents them from getting in trouble. Without finding efficient ways to achieve compliance it can be quite a big administration or paperwork burden. Compliance is necessary for every organisation as there are many rules surrounding business operations. Trying to achieve efficient compliance might be slightly more complex than other processes.
How to increase efficient compliance
There are many steps a small business can take to make compliance more efficient:
Smart recruitment
Use of tools
Standardising procedures
Implement a framework
Smart recruitment
When hiring new staff, it is important to have a clear job description so the candidates are aware of what their responsibilities will be. If the employees will be multi-tasking, then the business needs to ensure that they give them time to do each part of their job and not restrict them or give them duties they are not qualified for. If new responsibilities need to be introduced, the business will have to provide them with the relevant training and education for them to take on a new role.
The training will provide employees with the best knowledge so they know how to comply with laws and regulations and have the skills required.
Hiring can also assist in efficient compliance by hiring employees with the right attitude. This will prevent issues within the workplace and make it easier for employees to get along and remain productive.
Use of tools
Efficiency means that the business needs to get rid of all the piles of papers and folders. By using tools to record everything online, organisations can avoid duplicating documents, can identify gaps in compliance and improve policy management.
For example, Google Documents automatically maintains a version history for each document – so a small company can write a document control policy that uses this feature, and avoid spending administration time manually updating document histories on a cover page. The whole process will become faster and fewer people will be needed to manage the data. Using compliance tools will also decrease the probability of data being lost and will allow the business to monitor its compliance obligations.
There are different software and programs an entity can utilise for the best results. Polonious offers customers the tools to move all their compliance information online and find everything they need within seconds. We can help customers reduce the occurrence of manual data entry errors and help them store everything in one place.
Standardise and automate
Standardising procedures leaves little room for error, which can contribute to more efficient compliance. Businesses are able to see what is the best way to complete a task and then set guidelines that comply with rules and obligations. The entity might choose to make an SOP to increase both operational and compliance efficiency. An SOP is a standard operating procedure that outlines what employees need to do to complete a complex task.
Automating compliance can greatly decrease business costs. It involves the use of technology to check systems, send notifications when a problem is present and make procedures more simple.
The first step to automating is to standardise the process, as you cannot automate something that has too much variation or is done in an ad hoc manner. However, once you have standardised a process you will be able to see what opportunities there are for automating all or part of it. The business will have to test the automation system before it is implemented and review it regularly to avoid errors and improve the efficiency and quality of processes.
Polonious assists entities in automating their compliance by providing them with ways to automate their workflow. It protects their sensitive information, reduces the pains of ad-hoc communications and provides reports on actions that can be taken if there is a problem.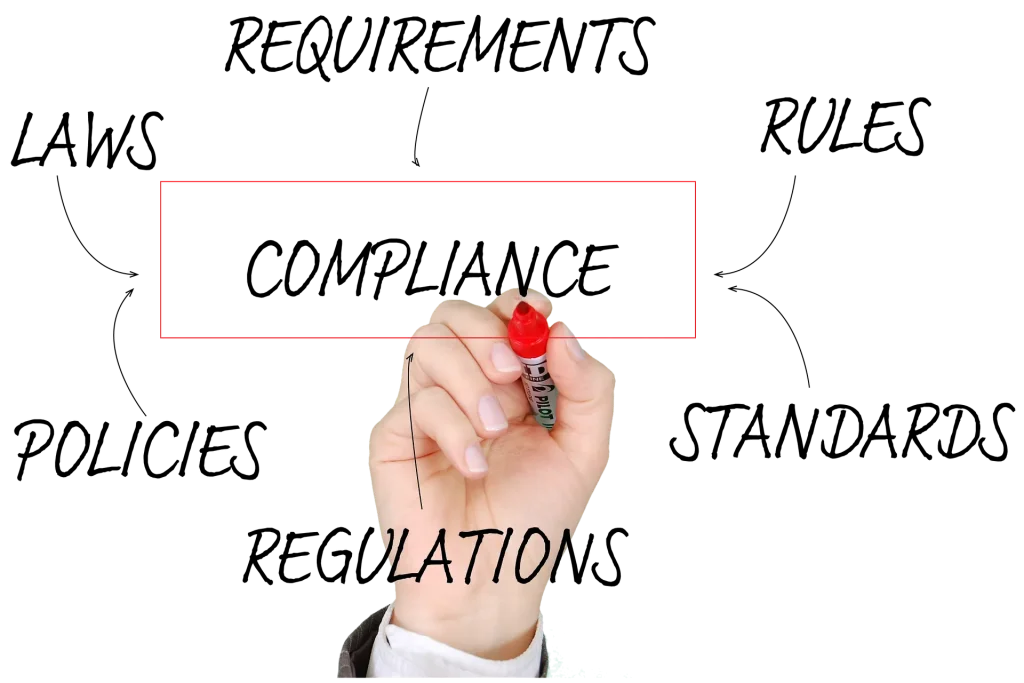 Implement a framework
A framework is a base for the minimum standards a business needs to follow. By implementing a framework the business will have to follow the guidelines it provides to meet its obligations. The framework needs to be a 'living document' that is updated when necessary and is able to adapt to the changing business environment. This will assist the business in achieving efficient compliance as its minimum obligations are clear and it does not need to have numerous guidelines that confuse employees. 
One of the best frameworks for businesses of any size and industry is the ISO 31000 ERM. It guides organisations towards success by assisting them with optimising their processes and updating them when needed. By using the ISO 31000 the business will have the required principles to meet its objectives and obligations.
The framework can help the business build its policies and procedures. Policies should not be created by outsourcing to a third party or by taking a shortcut. Even though that might be seen as efficient it can have consequences in the long term. It is advisable for the business to create its own policies and procedures to ensure that it addresses all its expectations and objectives.
To save time, you can start with template policies from online or from consultants, or research policies from similar companies – however you should always review them thoroughly and make them fit your context, otherwise you may end up promising things that are not relevant to you and wasting more time in the long run. E.G. consultants will often give you a great deal of paperwork and forms when setting up a compliance system, as this seems like good value as you get a lot of 'stuff' for your money.
However they may be setting you up with an unnecessarily burdensome compliance system – if you have a consultant helping you, it is better value to ask them how you can be compliant with less paperwork.
The management should then ensure that all employees are familiar with the policies and aware of what action they can take. This increases compliance efficiency as all employees are given the same document to follow and are aware of what their obligations are.
Benefits
Efficient compliance can help businesses achieve their obligations in the least costly and least time-consuming way. It can reduce the need for new employees and decrease the probability of problems arising from processes. It will allow a business to operate more smoothly and focus on the benefits of improving their risk management and business processes, rather than keeping up with paperwork. If a business puts emphasis on efficient compliance, it is more likely to also modify other parts of its operations to ensure that it generates as much profit as possible.
Conclusion
Continuous improvement is what helps a business grow. If a business is focused on improving its processes and updating its systems and controls regularly then it will be easier to achieve efficient compliance. Internal audits and inspections can monitor compliance and indicate whether efficiency is executed correctly or if other actions have to be taken.
Efficient compliance has many benefits and small businesses can use multiple ways to achieve the desired results. Automating workflow, implementing a framework or using tools are all activities that Polonious specialises in. It can provide your business with the best resources that will reduce time needed to complete a task, give you everything you need in one place and assist with recording data for compliance purposes.
Interested in learning more about how Polonious can help?
Get a free consultation or demo with one of our experts
Get a Demo