Polonious World is fast approaching so we thought it would be useful to profile some of our great speakers and topics. Our first is Dan Barrett of IAG New Zealand.
With the continual mission of business being to do 'more with less', Dan's unit at IAG New Zealand took on Polonious as a productivity tool. After 3 years, IAG NZ have managed to improve productivity 47% over the pre-Polonious days.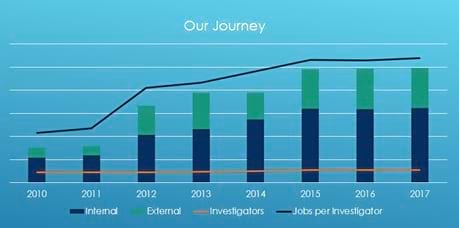 This is an impressive achievement and one of the highest productivity improvement we've seen using Polonious. We were very excited when Dan agreed to share IAG NZ's journey with the Polonious community.
Dan's talk will provide you with some excellent takeaways as to how to extract the maximum productivity value that Polonious offers for your Investigation Unit.
He also promises that he will not mention Rugby Union but will talk at length to performance motor sports if you will allow him.
We look forward to seeing you on the 8th May at the Grace. If you haven't yet registered, we advise signing up soon as places are filling up and we have a limited availability of seating.
Please RSVP here
About Polonious World 2017
After ten successful years of assisting over eighty clients to manage their case, complaint and integrity issues Polonious is pleased to announce its inaugural Polonious World conference and user networking event.
We have managed to engage Joseph Pistone aka 'Donnie Brasco' as a keynote speaker. Come and hear his story about helping to take down the Bonanno crime family in New York city.
To be held on Monday the May 8 at the Grace Hotel located in the heart of Sydney's CBD the featuring speakers from Australia, the USA, and New Zealand. The speakers have a wealth of experience across insurance, banking, education, law enforcement and private investigation. All have in common a drive to achieve professional outcomes with the highest level of integrity.
There will be over 100 guests and 12 speakers during the course of the day to deliver an insightful program packed with informative sessions coming from a range of expertise and industries.
This conference is a must for senior managers who are striving to improve investigation outcomes for clients, customers, students, and victims. The conference presents opportunities to mingle with industry peers while at the same time gather insights into case management issues and solutions in other industries.
We are sure this will be an exciting, educational and inspiring event and a great opportunity to exchange stimulating ideas. We look forward to seeing you there.
Interested in learning more about how Polonious can help?
Get a free consultation or demo with one of our experts
Get a Demo