A new financial crime guide released by the Australian Transaction Reports and Analysis Centre (AUSTRAC) is aimed at helping businesses detect and stop forced sexual servitude.
Overview
Forced sexual servitude is a crime where the victims are made to provide sexual services against their will. This is in contrast to legal sex work as the victims here are under the control of a coordinator. The victims are often under circumstances that they are unable to escape from due to their financial situation, living conditions, or residency status.
Forced sexual servitude accounts for about 30 percent of all modern slavery cases in Australia. In 2019-20, the Australian Federal Police identified 40 cases, an increase from 21 cases in 2018-19.
This crime has long-lasting physical and psychological damage on the victim. They are often subject to threats, violence, and being denied access to their money and personal documents. They are deprived of their basic human rights, living in poor conditions without access to medical care and other necessities.
Being able to spot the signs of sex slavery and act on it can make a life-changing difference. Banks and other financial institutions have a key role to play in identifying the roles and activities of all parties involved.
AUSTRAC also requires financial institutions to submit a Suspicious Matter Report (SMR) if they suspect a person is linked to a crime. This forms a part of their Anti-Money Laundering (AML) and Counter-Terrorism Financing (CTF) obligations. While discussion around Suspicious Matter Reporting focuses on the AML and CTP parts, reporting other organised crime involvement is equally important. Companies should position themselves ethically and work to create a safer community.
This blog will outline the signs that banks should look out for, and how to report any suspicious behaviour to the relevant authorities.
Financial Indicators
Financial links exist between all parties involved in this crime.
These parties include coordinators, trusted allies, victims, and customers. The coordinator is the main organiser in the forced sexual servitude cycle, using threats, violence, intimidation, detention and withholding personal documents to force the victim to undertake sexual work. Trusted allies assist with the logistics of controlling all the victims, and sometimes source the victims. Victims are the people who are forced into sexual servitude and customers pay for the sexual services.
Coordinators and Trusted Allies
The financial indicators of coordinators and trusted allies are:
Lack of business-related expenses and transactions
Payments to multiple online merchants or classified sites, which can reach $10,000 per month
Regular payments to hotels or short-term accommodation providers, totalling $2,000 per month
Receiving frequent third-party ATM cash deposits from multiple locations, with amounts in the range of $200 to $800
Receiving domestic transfers predominantly from third party males as payment for sexual services. These payments range from $100 and $800, with an average of $250
The payment patterns indicative of running an illegal sex work business include:
Luxury spending habits and gambling activity
Purchases that are inconsistent with their customer profile, such as make-up, beauty products and lingerie
High volumes of payments to rideshare companies (more than 15 per month) to transport sex workers
Regular takeaway orders for large groups of people
The payment methods commonly used by coordinators include:
Cash payments
ATM cash deposits
Online domestic transfers
Online payment platforms
Debit and credit card transactions
Face-to-face transactions at a bank branch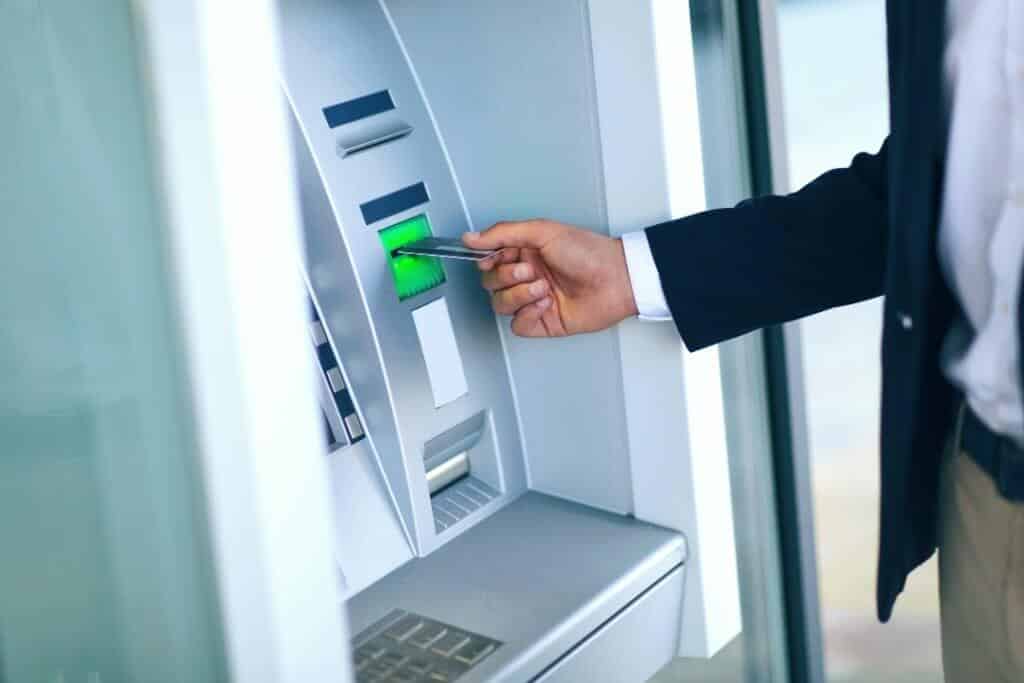 Finally, a common signal of a coordinator or trusted ally is that they engage in other crimes. These people are financially motivated and will take part in illegal activities such as financial scams, identity fraud, welfare fraud, and illicit drug importations.
It is important to recognise and follow up on signs of modern slavery and sex trafficking, not just to fulfil your obligations to complete an SMR, but because phone numbers, email addresses, bank accounts, and other details you identify may then be fed into your detection tools or raised with your fraud teams to detect potential frauds you would not have noticed otherwise.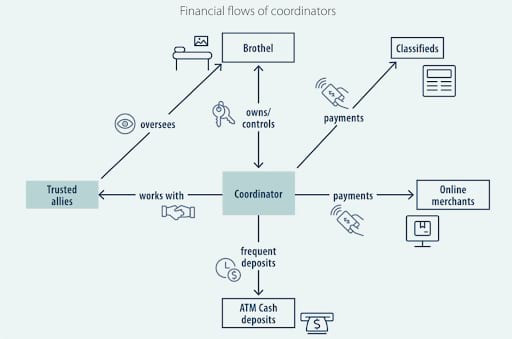 Victims
Victims are likely to receive credit transfers from websites, with amounts ranging from $1 to $200. The victim may then transfer this money to a third party who also receives payments from this website.
The payment patterns and methods typical to a victim of forced sexual servitude include:
Making cash deposits into personal and business accounts linked to brothels or sexual services
Receiving domestic transfers from the same third party with minimal or no payment references
Small domestic transfers to the coordinator
Receiving multiple third party credits or cash deposits and then transferring most of the funds to a singular individual or business (such as a massage parlour or sex on premises business)
The spending habits often associated with these individuals include frequent and large adult store purchases and continual purchases from clothing, make-up, beauty and lingerie retailers.
Victims may claim that their occupations are a cleaner, student, beautician, hospitality, social work, home duties or unemployed.
It is important to note that similar payments are made to legitimate brothels and legal sex workers. A range of indicators should be considered to distinguish forced sexual servitude from legal sex work.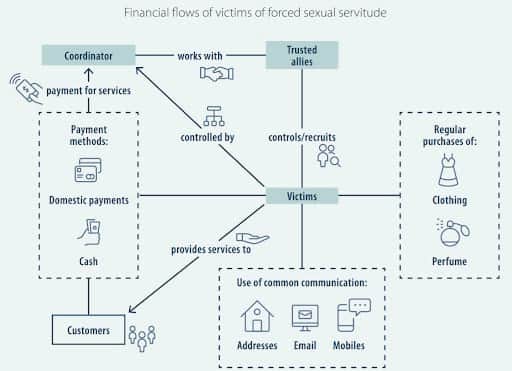 Reporting Suspicious Behaviour
If you observe a combination of the above indicators or other suspicious behaviours, and believe that forced sexual servitude is taking place, you should submit a SMR to AUSTRAC. A SMR should also be submitted if your customer is the victim of the crime.
You should submit this report if you have 'reasonable grounds' for suspicion. This means that after considering all the information and circumstances available, a reasonable person would have suspicion of forced sexual servitude occurring, and decide that a SMR should be submitted.
If anyone in your company spots anything unusual, you must undertake enhanced due diligence to establish whether you have reasonable grounds for suspicion. Further information on enhanced due diligence is available here.
These reports should be as accurate possible so that there is a better chance of detecting, deterring, and disrupting the forced sexual servitude. They should also be timely, as AUSTRAC requires SMRs to be submitted within 3 business days after completing the enhanced due diligence.
You don't need to know exactly what criminal activity the customer might be involved in to make an SMR. All you need to have is reasonable grounds for suspicion.
Finally, there are significant financial penalties for submitting an SMR late, or not submitting one at all.
For more information about SMRs, visit this website.
Conclusion
Forced sexual servitude is an abhorrent crime with devastating physical and emotional impacts on its victims. Financial institutions play an important role in identifying and reporting potential cases of this crime, potentially saving innocent lives from further trauma. These companies are required to submit SMRs as part of their AML and CTF obligations. However, financial institutions should strive to put an end to forced sexual servitude in all aspects of their business, and integrate this stance into their code of ethics.
Interested in learning more about how Polonious can help?
Get a free consultation or demo with one of our experts
Get a Demo