CLIENT PROFILE
Industry: Education
Employees: 2000
Volunteers: 1500
Students: 6500
Challenge: Paper based processes, lack of case management metrics.
Outcome: Streamlined HR and complaints processes
The Australian Province of the Society of Jesus (Australian Jesuits) is the Australian arm of the religious order of priests and brothers founded by St Ignatius Loyola more than 450 years ago. The Jesuits are probably best known for their work in education. Their secondary schools and universities are some of the best-known and most respected in the world.
In 2016, the Province launched a comprehensive strategy to enhance professional standards for the safeguarding of children and young people, selecting Polonious as its technology partner. The new systems have greatly improved the Province's ability to manage its staff and to fulfill its duty of care.
Paper cuts: From manual to digital
The Society of Jesus, more commonly known as 'the Jesuits' has a very long history, with management systems developed over many years since being founded in 1540. In recent years the Australian Province realised it would need to replace its manual case management and human resources systems to better coordinate information across its many works, including schools, social ministries, and health care.
Simon Davies became the Province's Director of Professional Standards at the beginning of 2016. "Everything was paper-based when I arrived," he says. "We had no metrics on what we were doing." Davies had previously been the Senior Officer for Professional Conduct, Ethics and Investigations with Catholic Education Melbourne. Before that he spent 14 years as a police officer with the Australian Federal Police, which gave him a solid background in both civil and criminal case management.
Without a modern case management system, the Jesuits' internal systems were being placed under increased pressure, particularly in the implementation and maintenance of best practice standards for professional conduct in the safety children, young people and vulnerable adults.
"We needed to digitise our existing files and systems so I could manage all our activities efficiently. There is huge potential for case management in the education sector, from human resources to complaint management, misconduct management and even student data," Davies says.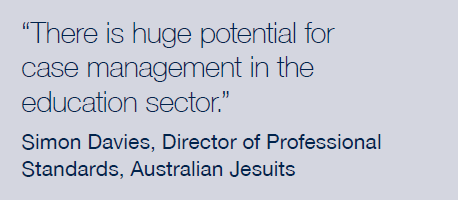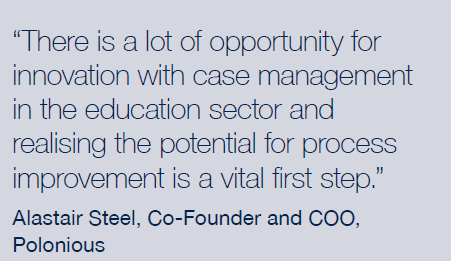 Case management for a range of processes:
The Australian Jesuits selected Polonious to help modernise its systems across a range of processes. Polonious is now used in many areas, including complaint management, HR and the health management of employees with a view to further utilising the system to manage supplier contract management.
"We are a non-profit organisation, so the benefits are largely intangible. Polonious has greatly improved our metrics and our case management. We are better able to determine where to put our resources and we are able to track all of our activities much better," Davies says.
"There is huge potential for case management in the education sector," Simon Davies, Director of Professional Standards, Australian Jesuits Polonious also helps with child protection and dispute resolution. "It's fantastic from a child protection perspective. We can easily track staff and any misconduct history, and manage any issues that may arise."
The Province has developed detailed policies and procedures to ensure the safeguarding of all children in its care, and is a partner in the Australian Childhood Foundations' Safeguarding Children Program. Polonious is used to track performance in these areas.
Modern tools unlock huge potential Following a wide scoping exercise to find a suitable case management application, the Jesuits selected Polonius for its flexibility and value. "Cost was a big factor. Polonious is certainly value for money, but there's more to it than that," Davies says. "It is an off-the-shelf product to a certain
extent, but it's also very customisable. So instead of having to make the business process suit the machinery, the machinery suits our processes, which is great."
The Province is now finding a lot of opportunity for innovation with case management in the education sector and across its other works. "As we use Polonius and more people in our organisation are exposed to it, we are finding many more uses for the product."
"The future opportunities are huge and it could be used in so many different areas." Polonious Co-CEO, Alastair Steel says case management in schools and universities extends well beyond complaints. "With student and staff administration, including HR, constrained by siloed legacy applications, Polonious delivers the flexibility to fit in with any business process and can be configured in a consistent manner," Steel says.
Interested in learning more about how Polonious can help?
Get a free consultation or demo with one of our experts
Get a Demo