The risk management framework (RMF) is a template that guides decision-making with regard to how to manage risk in a business. It was developed by the National Institute of Standards and Technology (NIST). All businesses face risks as well as opportunities, but with the right risk management framework you can minimise risks while capitalising on opportunities. Risk management can help the organisation survive and achieve its goals. A team within the company can create the framework to establish how they want to analyse the external and internal environment and assess risks. It is constructed according to the objectives of the business, its industry and size.
What is the risk management framework?
The risk management framework is a structured approach to risks that the business may face. It could include the policies, processes, internal controls and strategies that a company can use to handle risk. It could also outline the roles and responsibilities of the management and employees.
In some countries, the risk management framework is mandatory as it contains the tools and approach that businesses can use to reinforce their risk management. It does not only highlight present threats but future or potential issues that employers need to be aware of.
5 Components of the risk management framework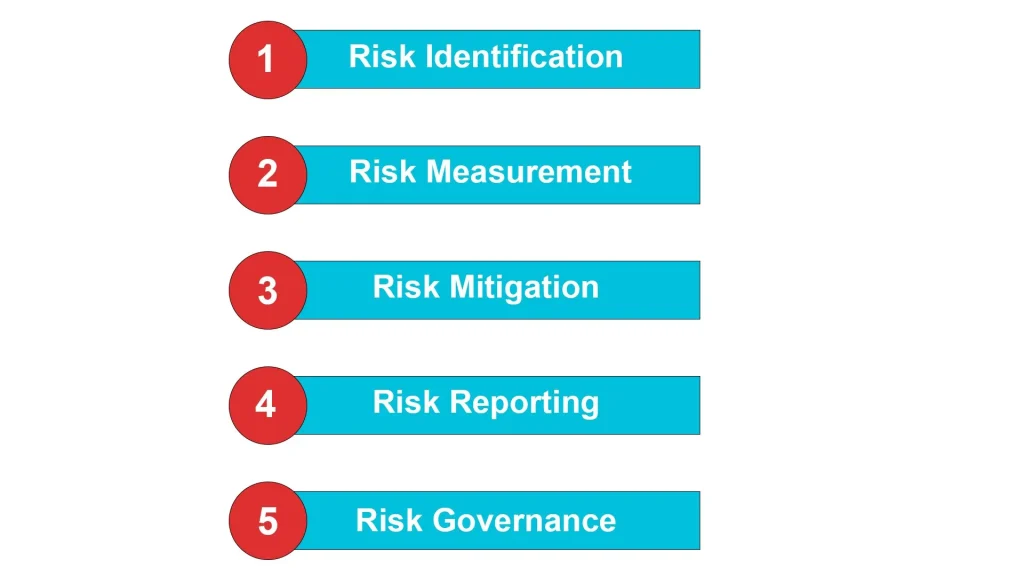 The risk management framework is comprised of five components:
Risk identification
Risk measurement and assessment
Risk mitigation
Risk reporting and monitoring
Risk governance
Risk identification
The most important part of the RMF is to identify present or future risks. There are many possible threats that a business may face that can include a vulnerability or weakness that can increase the likelihood of a risk materialising. There can be legal risks, operational risks, IT risks or strategic risks along with other issues. Organisations need to identify risks as they may disrupt business operations. It may be identified that areas within the company do not align with the organisation's missions and goals. After the identification, risks can be categorised.
Risk measurement and assessment
Once the identification process has been completed, risks can be assessed. A profile may be created to assign each risk a score according to its impact and likelihood. A risk assessment needs to be performed regularly as it can assist in determining how critical each risk is. It will measure the organisation's exposure to the threats and how these risks can change in the future. After a rating is given to the risks, the management can decide how to prioritise them and address them. It is important to remember that some risks offer clear benefits, such as the advantage of borrowing with an interest rate to help the company grow. This could make them easier to measure than others.
Risk mitigation
Risk mitigation will determine which risks can be accepted, reduced or eliminated. A business can choose to accept a risk if its impact is small or the impact is less expensive than the strategies required to control it. It can then decide which risks can be minimised and develop mitigation strategies. For example, a business might diversify its portfolio to minimise the risk of a certain industry. Risk elimination is the most effective method but it can be hard to implement. It requires a risk being removed from the organisation, which is a difficult goal to achieve. The assessment and identification of risks will guide management to make the right decision.
Risk reporting and monitoring
Businesses must monitor the measures they took to address the risks and report on their effectiveness. Risk levels might change and so can their impacts and likelihood. If the mitigation strategies are no longer working then they need to be replaced to help the company to adapt to the constantly changing risk environment. Reports can be produced that indicate which areas are still facing issues and where there is room for improvement. Managers need to stay informed and prepared as risk management is an ongoing process.
Risk governance
The last component of the risk management framework is risk governance. It describes the actions taken by the business to ensure that all employees perform their duties according to the risk management framework. Once the components have been implemented, employees need to adhere to the policies and procedures to increase their effectiveness. To manage certain risks, some duties within the organisation might have been segregated while other areas might have been impacted by limitations. It is important that staff accept those changes and understand the reasoning behind the decisions.
The components can be repeated frequently to ensure successful risk management.
Risk management framework steps
Once the five components have been established, the risk management framework can be created. It includes seven steps:
Prepare
Categorise systems
Select security controls
Implement security controls
Assess security controls
Authorise information system
Monitor security controls
Prepare
This step is a new addition to the risk management framework. It includes the steps the business can take to respond to any threats or weaknesses. The components of the framework can count as a step towards preparing the management. As part of this step, the organisation may collect information to assist and guide its risk management strategies.
Categorise systems
Based on the objectives of the business, a foundation can be created for the RMF. Managers need to understand their organisation and be aware of its systems. Information types, data and manufacturing systems need to be identified and categorised. A system boundary can be created prior to categorising to assist with determining the level of security required. The responsibilities of those who operate the systems and their intended use will be outlined in this step.
Select security controls
Security controls are essential to handle risk. Security controls include the safeguards that are implemented to mitigate or minimise risk. These controls will vary depending on the risk identified, the system affected and the type of business. Their main goal is to protect the organisation from risks such as threats to confidentiality and integrity and they are usually part of the risk assessment component. For example, a manufacturing system risk might be minimised by introducing an emergency shutoff system on a machine.
Implement security controls
Once the management has selected the security controls, they have to be ready to implement them. After the security controls are in place they need to be monitored and documented to measure their effectiveness. The documents will give employers a better idea of what steps they need to take next. Implementation of security controls could include implementing a new policy or procedures in the organisation. For example, implementing cryptographic keys to mitigate an InfoSec risk.
Assess security controls
This step will determine whether the security controls were implemented correctly. It will show the organisation whether the controls are helping the business meet its goals and desired outcomes are being produced. They can highlight whether risks are mitigated successfully and controls are operating as planned.
Authorise system
If systems are operating correctly and are effectively managing risks, then they should be officially authorised. The senior management can track controls to determine whether they are reducing risks and if they are ready to be authorised.
Monitor security controls
To ensure that the business stays compliant and it is actively achieving its objectives, management needs to monitor all security controls in place. For this step automated tools may be used to assist with the continuous monitoring of the security controls' effectiveness. Impact analysis can be performed and alerts can be implemented to flag any irregularities or signs that the controls are not performing as planned. Evaluation of the system will show the management which controls need improvement and which areas need to be changed. Some controls may be used in more than one area to maximise efficiency.
Benefits of the risk management framework
The risk management framework can assist the business in taking advantage of market opportunities while reducing negative outcomes, and thus can result in better outcomes overall. Good decision-making for risk management can improve the overall performance of the company and generate higher profits. The business will also have an advantage over its competitors as it is able to manage risks before they impact on its operations. Good risk management can also attract investors and make it easier for creditors to lend money to the business. Overall, the risk management framework is essential to keep the business prepared to deal with uncertainty and issues that might arise.
It does not only protect the assets and confidentiality of the company but its reputation and market position as it can detect data breaches and protect client information. By giving the business a structured approach to avoid catastrophic events, it encourages it to grow and improve.
Conclusion
Good risk management might go unnoticed as no risks are materialising. However, if that is the case employers need to be aware that risks are still present. The components of the risk management framework can help it achieve its goals and forecast probable issues. It will help avoid possible disruption in business operation and minimise the threats that might arise. The components can also be part of the steps that make up the RMF.
The seven steps offer many benefits to companies as they encourage the them to be on alert. They support risk management focused decision making. It is not enough to just implement the controls of the RMF, the whole organisation needs to work together to ensure that they are effective.
Interested in learning more about how Polonious can help?
Get a free consultation or demo with one of our experts
Get a Demo