Sometimes we hear reports from SIU managers that they are required to use their claims system as their fraud investigation management system, and, in our experience, it's very rare to hear this said with much enthusiasm. In this blog series, counting the benefits of dedicated investigation systems, we will discover more about why this approach presents several issues for investigation units.
1. Security and disclosure
Investigators, even in claims fraud units, often investigate and gather extremely sensitive information. This can include detailed statements from witnesses and claimants, photos of a private nature, videos of activities witnessed and other information pertinent to the case involved.
This information is vital to gather to truly ascertain the best course of action to take in any particular, fraud-flagged claim. It also needs to be carefully tracked, secured and stored ready for use in a potential court challenge or potential law enforcement referral.
Since it's not very useful to the claims process, SIUs that must use their claims system as an investigation system tend not to upload and store this data in a long-term, secured way. This can mean if an action is taken in court several years later, the case evidence may not be available.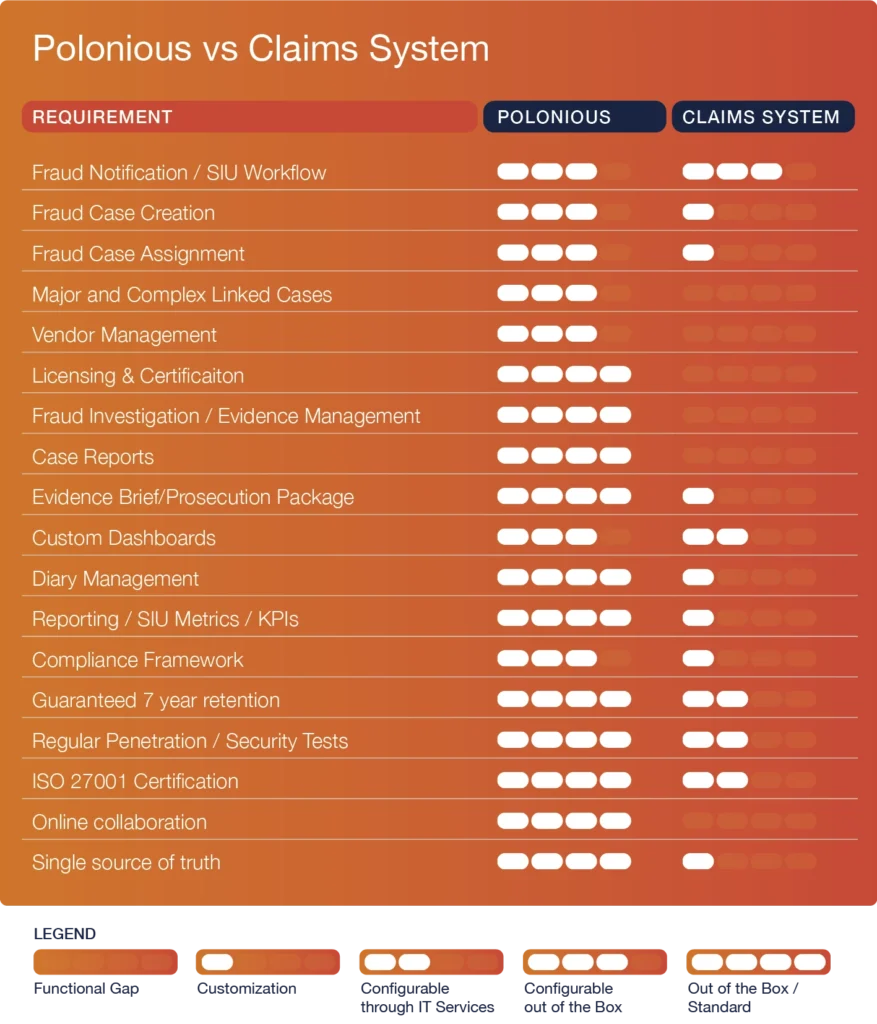 2. Difficulty, cost of changes for the SIU
Claims IT systems are expensive, involve a lot of moving parts and integrations, and have very large IT teams to support them. These teams tend to be continually busy working on the claims system making it very difficult for a relatively small unit such as the SIU to get their attention.
We've heard of delays of up to three years for some requirements, which makes sense as an insurance business – the claims unit is one of the most important pieces to get right. However, if your fraud unit is using the same system, it's likely that it's never going to get the attention it deserves.
3. Difficulty adding a true investigative process
Pressures on investigative process are increasing with legislative changes requiring actions by SIUs to protect claimants and other participants from. This makes it extremely difficult for claims systems and processes to include a proper investigative process.
4. Tracking performance of individual investigators and vendors
Claims systems are capable of tracking basic measures about suppliers and team members; however, SIU managers will testify that claims reporting and data capture are not wholly relevant to fraud investigations management.
SIUs need deep quality measures, more granular process timings, details on individual outcomes and specific actions. All this complexity is easily handled by a good investigation management system backed by excellent dashboards and reporting features.
Without the specific database needed in an SIU, it's more difficult for an SIU manager to truly measure performance and capabilities within their teams and suppliers.
5. Claims systems have limited understanding of certifications
A key part of every investigative process is ensuring that all parties involved are correctly certified to do the work. Not doing so could cost the business a fine at a minimum, but it could also invalidate a finding, be challenged in court and potentially add other risks. It could also cause a regulatory breach or a PR incident.
A truly capable investigation management system will not only ensure that your certifications are up to date but also 'niggle' the team members (internal or external) to ensure they re-certify and update the system with their latest licenses, insurances and other needs.
6. Preparing law enforcement briefs is time consuming
SIUs are often subject to laws that require referral to law enforcement. Preparing a good brief to help law enforcement prosecute with the best chance of success is very difficult if the main repository is a claims system.
These systems do not have 'brief of evidence' capabilities which take days of effort off brief preparation. This can mean less briefs are possible for the time and budget available, which hinders fraud action.
A good Investigation Management system has this sort of capability built in saving your SIU days of effort for each brief prepared.
Polonious Systems goes well beyond a claims system for SIU work. Polonious will integrate with what you already have, but also solve all the problems listed above. In addition, it is a good time to deploy software which places little burden on your IT department.
Learn more about Polonious Systems here.
Interested in learning more about how Polonious can help?
Get a free consultation or demo with one of our experts
Get a Demo
Polonious is a market-leading case and investigations management application, which is designed to improve business workflow, while keeping up with the constantly changing regulatory environment.