Polonious is proud to announce it has been certified as ISO 27001:2013 and 9001:2015 compliant.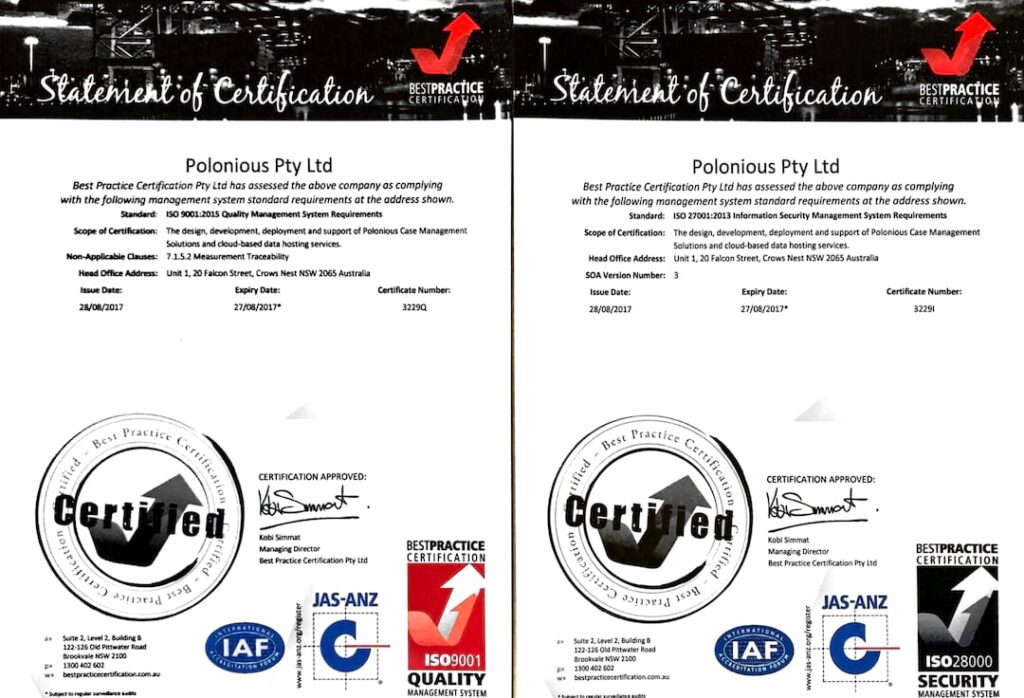 I would like to personally thank the team for the effort this has taken over the past months, this is a great achievement.
ISO/IEC 27001:2013 specifies the requirements for establishing, implementing, maintaining and continually improving an information security management system within the context of the organization. It also includes requirements for the assessment and treatment of information security risks tailored to the needs of the organization. The requirements set out in ISO/IEC 27001:2013 are generic and are intended to be applicable to all organizations, regardless of type, size or nature.
For more information see https://www.iso.org/standard/54534.html
ISO 9001:2015 sets out the criteria for a quality management system and is the only standard in the family that can be certified to (although this is not a requirement). It can be used by any organization, large or small, regardless of its field of activity. In fact, there are over one million companies and organizations in over 170 countries certified to ISO 9001.
This standard is based on a number of quality management principles including a strong customer focus, the motivation and implication of top management, the process approach and continual improvement. These principles are explained in more detail in the pdf Quality Management Principles. Using ISO 9001:2015 helps ensure that customers get consistent, good quality products and services, which in turn brings many business benefits.
For more information see https://www.iso.org/iso-9001-quality-management.html
Interested in learning more about how Polonious can help?
Get a free consultation or demo with one of our experts
Get a Demo