Our UK team have been working hard on an integration with Maltego – a comprehensive tool for graphical link analyses that offers real-time data mining and information gathering. Our Maltego 'transform' allows you to run Maltego over a Polonious database and display links between elements on a node based graph.
This graphical link analysis makes multiple order connections between different elements easily identifiable. With other transforms, you can connect other data to Maltego open source intelligence (OSINT) and other partners, further building out the connections between Polonious data and other intelligence.
If you've run Maltego over existing Polonious cases and you find something interesting, you can query cases, people, companies or other entities in Polonious in real-time. However, if you start your investigation in Maltego, you can send the case to Polonious and send people, companies and other entities to your new case.
So what does this mean for you? Well, if you're analysing intelligence in Maltego and you find something worth investigating, you can easily bring that over to Polonious and work the investigation in our leading, dedicated investigation management system. From there, you have all the benefits of Polonious – streamlined processes with reduced administration, high security evidence management, and built in compliance with relevant legislation.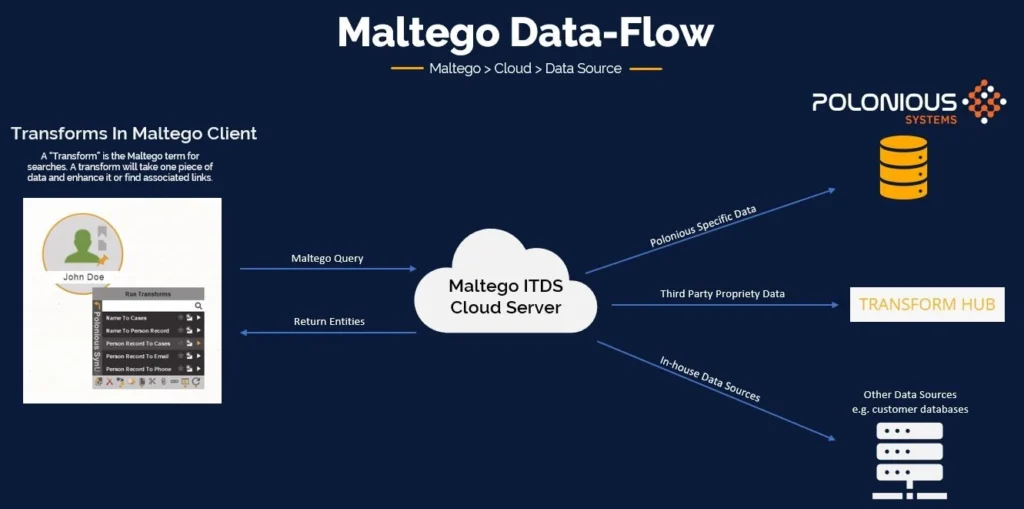 If you're working an investigation in Polonious and you need to see if any subjects, contact details, vehicles, etc have any connections with other Polonious cases or any other intelligence sources, you simply run the Polonious transform in Maltego. Graphical link analysis makes it easy to identify connections, which you can easily feed back into the case.
We have a short introductory video below, and we have more information and a longer demo on our evaluation page here. If you would like a demonstration of the power of Maltego graphical link analysis + Polonious investigation management, please click here to get in touch!
Interested in learning more about how Polonious can help?
Get a free consultation or demo with one of our experts
Get a Demo
After being a client of Polonious while working in the Student Discipline team at Curtin University in Perth, Nicholas joined Polonious as a systems configurer in 2017. He has since successfully completed many rollouts and also contributes to improving Polonious' internal ISO processes. Nicholas holds a Bachelor of Philosophy from the University of Western Australia.